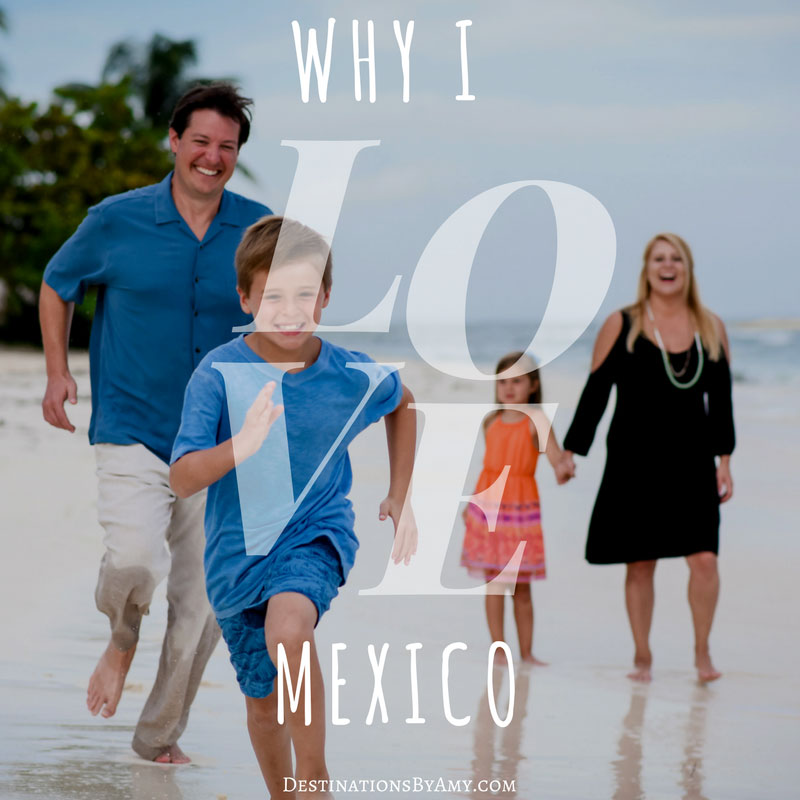 I love Mexico. Guys, I brought my children to the Cancun Airport. Took transfers to Hard Rock Cancun. Hung out on a public beach with them. I felt safe. I took them on a wild goose chase to find my daughter's Minnie Mouse on the Tulum/ Mexico 307 and the driver couldn't have been more accommodating. I love Mexico. We arrived at the Grand Velas Riviera Maya with the butler concierge awaiting our arrival. They made my family and I feel so invited and well-taken care of. I am grateful for the amazing dedicated, distraction free time that I spent with my family. No laundry, no figuring out what to make for dinner, no school pick ups, and we didn't even have to worry about spending too much. That's what I love about an all-inclusive vacation. Indulge, take that Yoga class every morning, try something new, learn about the Mexican traditions and culture, try to improve on your Spanish, feel as if you are really far from home, take in how exotic and different your surroundings are, this is my definition of a true vacation. I love Mexico.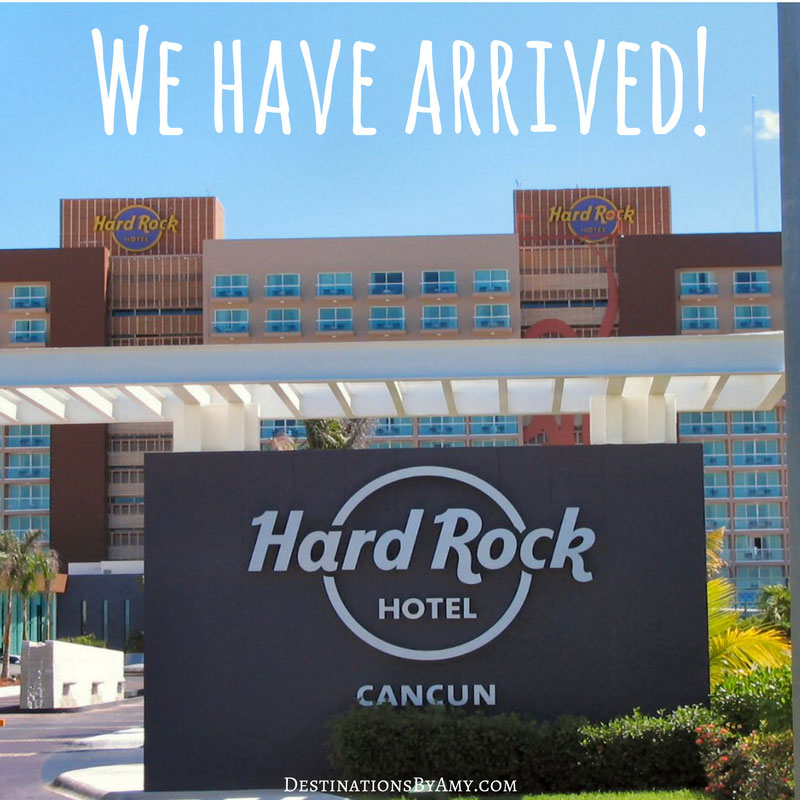 Steve and I are now debating as to which resort we liked the best. We are split down the middle. Steve just loves the Hard Rock. We have also stayed at the Riviera Maya and Punta Cana properties. Riviera Maya is still his favorite though Cancun is a close second. Steve is a rocker so he feels at home with music and memorabilia at every turn. It's a casual resort. Sure there is a dress code for dinner but you can wear your sleeveless muscle tee if you want and show off your tats. Just clean up and come looking nice is really their dress code. We had an outstanding first dinner at the Italian Restaurant, Ciao. Mind you this was our first dinner out, by ourselves, in a nice restaurant, in a foreign country, in a while, so I had to be ready for anything. To my delight, the servers were so accommodating as my son ordered for himself and my daughter chose all the wrong dishes requesting different food. They served us a house pasta course of Salmon Primavera that I can't wait to recreate. My kids loved it! What? What is going here? Everyone stay still and be quiet, the kids are enjoying themselves and being well-behaved. So I ordered another glass of Sauvignon Blanc and relished in my success. Thank you, Ciao. A great way to start our vacay!
We spent the next couple days at the pool and then the beach, where the kids ran from the big crashing waves, yelling loud (not telling them to shhhhhh!!!!) and having a blast.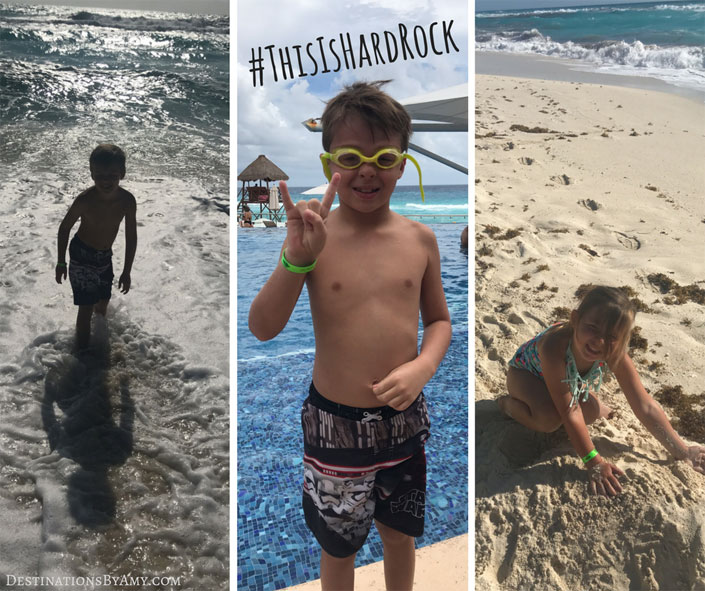 The kids LOVED the kids club. Xbox and legos for Mikey and for Lucy, an Angelina Ballerina room to play tea party with all the other little girls. I would have to say, Steve and I may have enjoyed the kids club just as much! I felt safe there, the staff was outstanding and always remembered the kids names. You have your cell phone on you if they needed anything. We would do what we want and be like, "Jeez, it's been awhile, we should go get them." To our surprise, our kids begged to stay longer. So they did 🙂 Mikey met a great friend there and we ended up hanging out with his parents. We were lucky to have found some vacation friends so quickly. We had dinner together and were chatting, realizing Jack Storms is a famous artist, not realizing that our dinner was taking so long and Lucy falls asleep at the table. Classic! It's a long day of vacation when you fall asleep at dinner.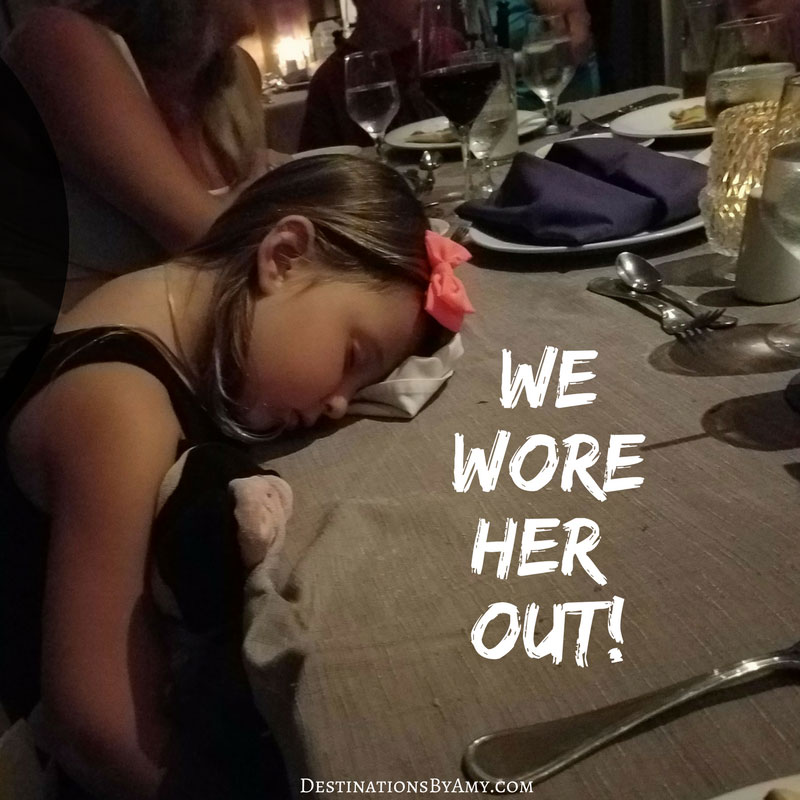 Our time at Hard Rock Cancun regrettably came to an end and we hit the road to find out halfway to our next destination, Lucy yells out "MINNIE." Yep, folks. I was Mamma Bear and made the driver turn that van around. I will tell you that Pedro Salgado, Driver at Gray Line Tours was one of the most understanding and accommodating driver I have ever had in Mexico. We were blessed that he didn't outright show that I was a crazy person for doing this for a stuffed animal and he acted as if he understood how important this was for the rest of our vacation in Mexico. My god guys, if we lost Minnie only four days into our 8 day trip, that would have been hard on everyone. I ran through the Hard Rock Cancun frantically asking everyone that I saw if they have seen a Minnie Mouse stuffed animal. I realize how crazy this sounds! I finally ran up to the Rock Royalty level where we just had lunch and there she was, sunning herself on a lounge chair. My eyes filled with tears and a complete sense of relief came over me. I grabbed her and ran back to our van. All was right with the world. Minnie was found!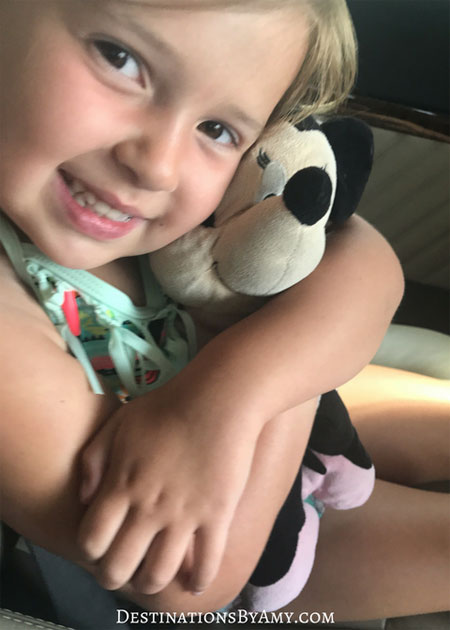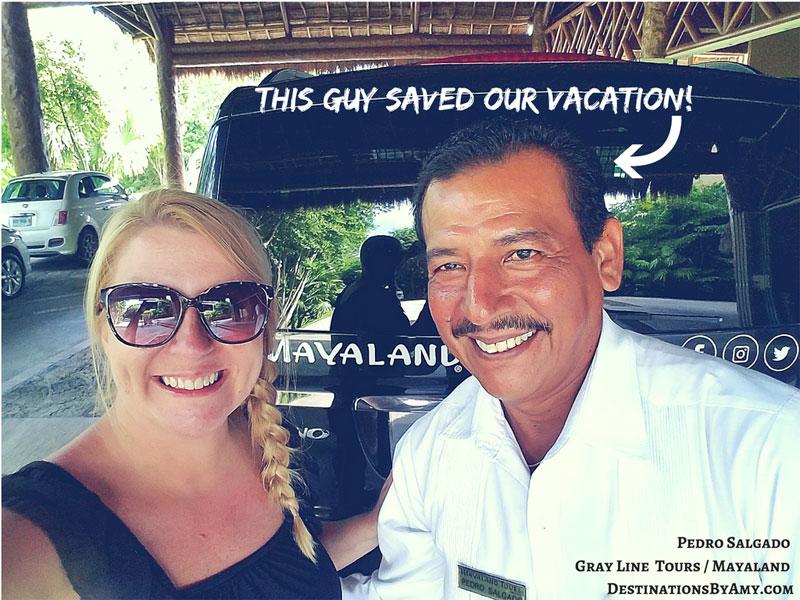 ---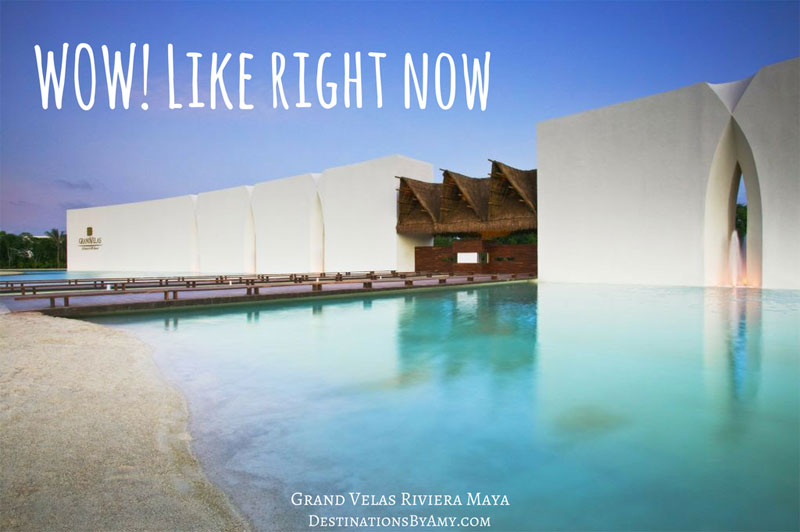 We finally made it to Grand Velas Riviera Maya about an hour later than expected; regardless excited to experience this upscale all-inclusive resort. I have been waiting so long for my family and I to stay at Grand Velas. Steve and I toured the property a few years ago and my jaw hit the floor. This is a level of all-inclusive over and beyond the others. This is the Ritz or the Four Seasons but better, it's all-inclusive. Yes, the architecture, the size of the rooms, the quality of the bath products, the sheer beauty of the resort are great but what stands out is the service. The service at this resort, starting with your butler concierge to the wait staff at the pools was so personalized and special. It was about making our trip what we wanted. Can I get you an extra towel? How about poolside homemade guacamole while you sun yourself? Would you like me to change your dinner reservation so you can enjoy the beach longer?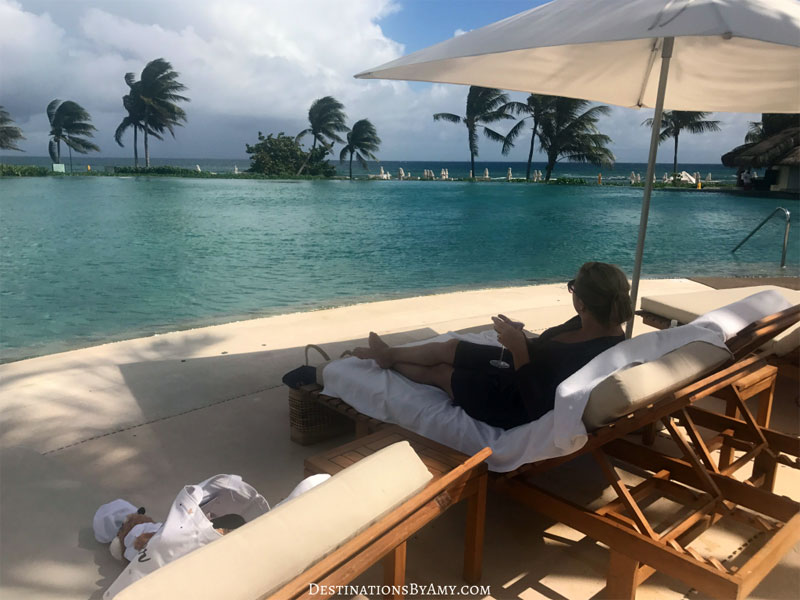 Sure there is a still a very nice buffet for lunch. The difference is that they have stations for you to get tacos made or order a pizza, they also allowed my daughter to request homemade macaroni and cheese. It's amazing when the staff really cares that you are getting everything that you want. Pair that with formal table service. Always amazing me with the proper silverware before I even had to look for them. This is not something to take for granted. If I had to then remember to run back up to the buffet because I forgot a soup spoon, my soup would have gotten cold. Seriously, five star accommodations.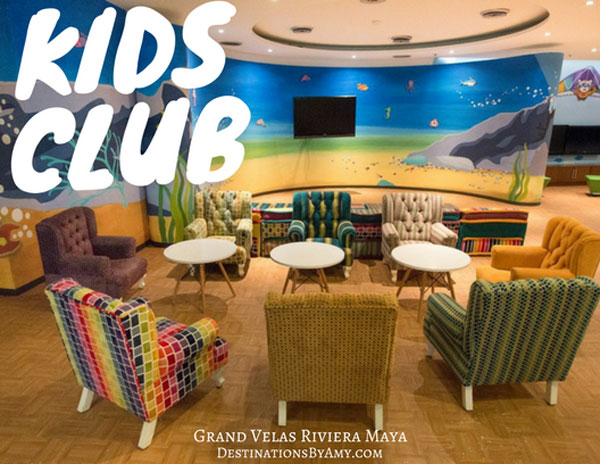 The kids club at this resort was even better than home. It was so comfortable and inviting. The staff was so fun and truly enjoyed playing with my kids. I was very impressed with the level of service in terms of activities they offered. We came back from dinner with the kids laying on these big cushions, under a blanket, watching a movie about to fall asleep. Trust me, I wanted to say, "oh you got this, we are going for another cocktail." Plus they didn't want to leave, it was only 9 p.m. and the kids club doesn't close until 11. We could have went for that drink! I'm so glad that my husband and I had a romantic, adult dinner at the French restaurant, Piaf and our kids had so much fun at the kids club they didn't want to leave. Another successful night of the Seng Family vacation!
The next day we found out that the weather activity in the SouthWest Caribbean is now a tropical storm and there was flooding and landslides in Costa Rica and Nicaragua. The rain is the biggest culprit to a Tropical Storm, not wind and they were sure that if it made land in Cozumel it would have slowed down. Our butler concierge eased any nerves we had and we scheduled our family photo shoot for the beach later that day. Last ditch effort for a nice family picture to put in the Christmas card.  We did dinner at the Asian restaurant, and Mikey LOVED all of it.  I couldn't believe this kid, he is really into Thai food.  Lucy, well, she fell asleep again 🙂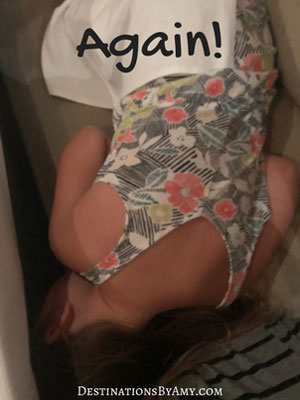 Friday, our last day in Mexico, we braced for Tropical Storm Nate. We just went along with our day and the resort was putting down these large screens to keep debris from the outdoor lobby areas and sandbagging each of the entry areas. Kids spent some of the day in the kids club, we checked out a couple spots to have a tropical cocktail. It drizzled a lot but stopped and then the sky became purple. It was gorgeous as I logged on to find that Nate was 80 miles east of Cozumel. It took a turn! Great! Wait. I canceled my restaurant reservations at Cocina de Autor with Michelin rated Chef Nahum Velasco. Oh man! I was looking forward to that experience the entire week but couldn't leave my kids in the kids club during a tropical storm. So I canceled it! Ugh. Nate. Tease. We called it a night and ordered room service and rented a movie. Snuggled and embraced our last night on vacation.
I was sad the next morning to leave the Grand Velas. I will be back. Soon. No Question.
It was bittersweet to leave Mexico. Yes, we did it all, it was time to go but I feel at home there. I Love Mexico. Goodbye, Cancun & Riviera Maya, until next time!
Amy Seng | Destination Wedding Planner & Founder | 847.485.0018  |  amy@destinationsbyamy.com